Test Terminal Blocks- SS Series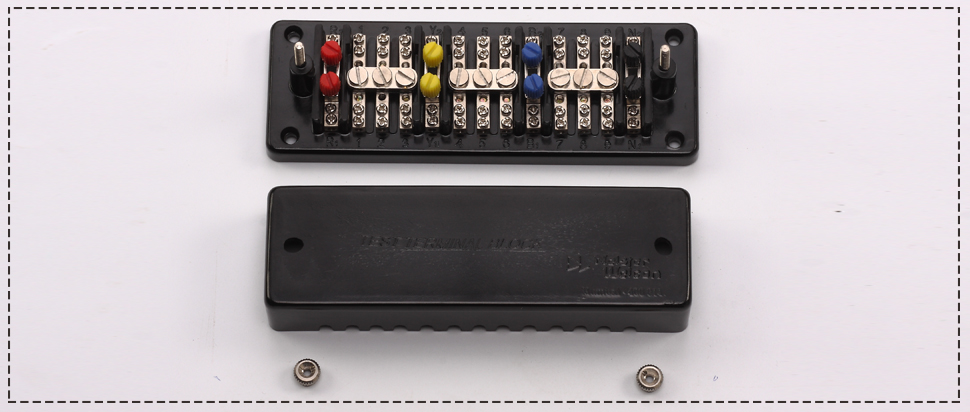 Features
Facilitates easy & safe in-situ testing of C. T. operated metering systems without disrupting load circuit.
Robust construction.
High electrical strength.
Facilitates injecting voltage from external source by using Banana Plugs.
Easy sealing arrangement.
Bridging Link option available for earthing of current returns with C-phase. Return of current thus connected to earth.
Extended robust fire retardant Transparent PolycarbonateCover.
Nelster Welcon Test Terminal Blocks offers convenience in, in-situ testing / calibration of electromechanical and electronic polyphase integrated Meters, Protective Relays etc, without disrupting the existing load circuit. Housed in a high grade phenolic moulding with integrally moulded barriers, it offers ample protection against flash-over between terminals.
All Terminals are made from high quality brass, duly Nickel plated and have 3.40 mm hole for cable entry and M3 screws for clamping.
M4 Brass studs with washers and nuts are provided at the rear, in rear connection types. Sealing holes provided on the Cover securing knobs and studs, prevent unauthorised access.
The voltage terminals have shorting links and colour coded moulded knobs for operational convenience. Each group of current terminals consist of three terminals with interconnecting screws or links (depends whether screw or link type) for injecting current from a portable test set or to short circuit Current Transformer Secondaries.
These TTBs are available in screw or link type. for front or back connected applications.
| TYPE | ORDERING CODE |
| --- | --- |
| 3-Phase, 4-Wire Screw type front connected with black Standard Cover | SS34-SFC-SC |
| 3-Phase, 4-Wire Screw type front connected with Extended Transparent Polycarbonate Cover | SS34-SFC-EC |
| 3-Phase, 4-Wire Screw type front connected with Slotted Extended Transparent Polycarbonate Cover | SS34-SFC-SEC |
| 3-Phase, 4-Wire, Screw type back connected with black Standard Cover | SS34-SBC-SC |
| 3-Phase, 4-Wire Screw type back connected with Extended Transparent Polycarbonate Cover | SS34-SBC-EC |
| 3-Phase, 4-Wire Screw type back connected with Slotted Extended Transparent Polycarbonate Cover | SS34-SBC-SEC |
| 3-Phase, 4-Wire Link type front connected with black Standard Cover | SS34-LFC-SC |
| 3-Phase, 4-Wire Link type front connected with Extended Transparent Polycarbonate Cover | SS34-LFC-EC |
| 3-Phase, 4-Wire Link type front connected with Slotted Extended Transparent Polycarbonate Cover | SS34-LFC-SEC |
| 3-Phase, 4-Wire Link type back connected with black Standard Cover | SS34-LBC-SC |
| 3-Phase, 4-Wire Link type back connected with Extended Transparent Polycarbonate Cover | SS34-LBC-EC |
| 3-Phase, 4-Wire Link type back connected with Slotted Extended Transparent Polycarbonate Cover | SS34-LBC-SEC |