Relay Test Blocks (NWRTS & NWRTP)
Relay Test Blocks (NWRTS & NWRTP)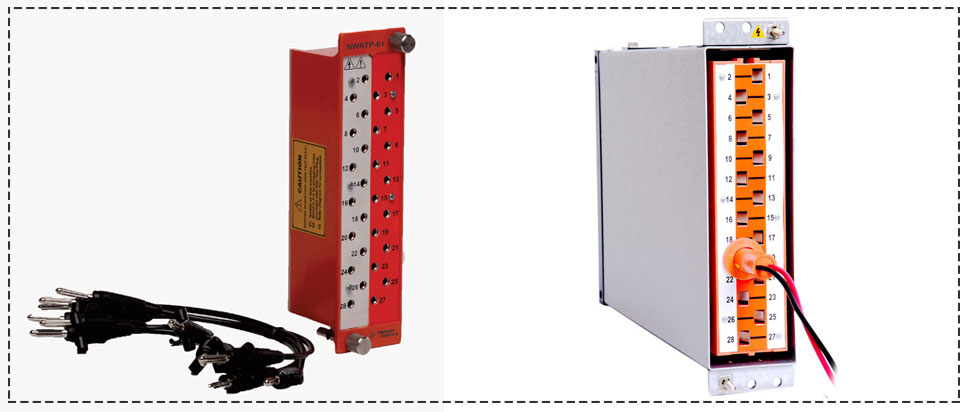 Relay Test Block Series : NWRTS-01
NWRTS range of Relay Test Blocks are housed in size E2 unit in the Epsilon range of enclosures.
NWRTS range of Relay Test Blocks and NWRTP range of Test Plugs facilitates safe and in-situ monitoring and testing of Power Systems Protection schemes.
NWRTS range of Relay Test Blocks comprises 14 pairs of spring loaded contacts. Each is independently terminated at the rear as 28 separate terminals, each with an M4 screw outlet for ' L' shaped pre-insulated crimp terminations for connecting external wiring and 2 nos blades - 4.8 mm x 0.8 mm cross section to accept snap on connectors,
Each individual circuit consists of a pair of contacts that remain closed to complete the circuit link when the related protective system is in normal service mode. The NWRTS cover, when In place provides adequate safeguards from electric shock hazard. Upon removal of the NWRTS Cover, an orange colored Strip on the face of the Test Block provides ample visual indication that the system is out of service. Earth terminal is provided at the rear top of NWRTS.
Internal circuits for the purpose of testing can be accessed on the removal of the front cover. The cover when removed will interrupt the circuit between 13 and 14 as the metallic probe attached to the inside of NWRTS-01 that closes the circuit between terminal 13 and 14 too is withdrawn. Upon routing the main DC auxiliary supply to the protection system or Relay through this circuit, removal of the Test Block front cover will thereby prevent inadvertent tripping of the protection system under test.
NWRTS-02 does not have this metallic probe, since the contacts between terminal No, 13 and 14 are closed.
IMPORTTANT
Terminal no. 13 and 14 on NWRTS-01 and NWRTS-02 should not be used for CT connections since this will pose a safety hazard. As the related NWRTP-01 test plug contact is shorter than the others, it would result in an open circuit Path on the NWRTS-02
Connections to the other realted equipments Viz. CTs, VTs, DC supplied etc should be made to odd numbered terminals on the Test Block. This is to ensure that when the Test Plug-NWRTP-01 is used, the sockets in the white half to the Test Plug are the isolated Relay circuits and the sockets in the orange half are connected to the potentially.
Relay Test Plug - Series NWRTP
Relay Test Plug. Series NWRTP-01

This is a multi finger Test Plug when inserted, open circuits the contacts in the Test Block. The Test Plug consists of 28 nos. 4 mm. dia. sockets. Each socket corresponds to the numbered case terminal and is identified by identical number. Please refer figures # 3.

NWRTP-01 Test Plug when inserted into the Test Block it is securely retained by means of 2 nos. Knurled knobs. Shorting wire links are also provided with the NWRTP - 01 test block. The following accessories are provided with each NWRTP-01 Test Plug.:

4 Nos. 150 mm long cable consisting of 4 mm plugs at both ends,
4 Nos. 50 mm long cable consisting of 4 mm Plugs at both ends.
6 Nos. 4 mm plugs which accepts flexible insulated cable upto 2.5 mm2 tor test lead purposes.

IMPORTTANT

Before inserting the Test Plug NWRTP-01 into the Test Block NWRTS-01 it is essential that sockets in NWRTP-01 Which corresponds to the current transformer secondary windings are shorted using external shorting wire links. This is to avoid extremely high voltages. It is also essential to ensure that the ammeter is on the correct range and that it is connected to its test leads, before inserting a test plug to measure current.

Test Plug. Series NWRTP-02

This is a single finger Test Plug that can be inserted into individual test positions as shown in figure #1. NWRTP-02 consists of two contacts which are insulated from one another. Each contact is connected to a lead wire. For polarity identification, one core is red and the other black. Each NWRTP-02 Test Plug is provided with 1.0 mm2-twin flexible cable of 1.5 metre length.

IMPORTTANT

It is essential that adequate precautions and safety measures are taken before proceeding with the measurements and testing. When using for voltage measurements, it is possible to access hazardous live voltages via the single finger Test Plug. While monitoring secondary CT current, the leads from the single finger Test Block must never be open Circuited. If done, it can generate lethal level voltages.

Technical Specifications :
| High Voltage withstand | |
| --- | --- |
| Enclosure Protection : | IP 50. Dust protected. |
| EMC compliance : | Relay Test Blocks and Relay test plugs have been classified as electromagnetically benign. It has therefore, been excluded from European Community EMC directive ( 89/336/EEC) |
| | |
| --- | --- |
| MODELS | ORDERING CODES |
| Standard Test Block in vertical version | NWRTS - 01 |
| Specially designed Test Block for busbar systems, in vertical version. | NWRTS - 02 |
| Horizontal version of NWRTS - 01 | NWRTS - 03 |
| Horizontal version of NWRTS - 02 | NWRTS - 04 |
| Multi-finger Test Plug with accessories. | NWRTP - 01 |
| Single finger Test Plug. | NWRTP - 02 |